Join us in the school year 2023/2024
Kindergartens and schools
Every kindergarten and school that wishes to participate in our project can fill out the application.

Parents
Would you like your child to participate in an international 'Say Hello to the World' project? You can speak to your kindergarten teacher and inform her about us, or contact us. We will try to do our best to make it happen.
My Hello web application
This Web Application has been created exclusively for this project and is considered to be the intellectual property of FINI zavod Radeče and is promoted under the 'Say Hello to the World' brand.

The purpose of the Application is a smooth and safe interconnection of participating educational institutions (kindergartens and schools). The Application has many functional advantages, since it allows:
- Uploading images and documents
- Posting messages
- Creating Glossary
- Planning a video call
- Submission of electronic evaluation forms
- Integrated video conference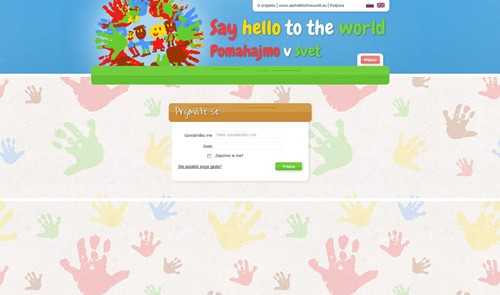 The Application is password protected, which means only the professional team of the participating institutions can access the Application. In this way we wish to protect the children's rights and all the participants, as well as to ensure the privacy during the communication.