Join us in the school year 2020/2021
Kindergartens and schools
Every kindergarten and school that wishes to participate in our project can fill out the application.

Parents
Would you like your child to participate in an international 'Say Hello to the World' project? You can speak to your kindergarten teacher and inform her about us, or contact us. We will try to do our best to make it happen.
News
STRENGHT OF THE PROJECT "SAY HELLO TO THE WORLD"
30/03/2020 21:07:22
Our nursery school is participating in the "Say Hello to the World" project for the first time. We have been participating since September 2018. The actively participating children are 6 years old. We are participating with Croatia.
I would like to describe a preparation to present the fourth finger "Me and My Town", because our principal, educators, assistant educators, teacher of English, teacher of music and members of Municipality were involved into children's preparation for a video call.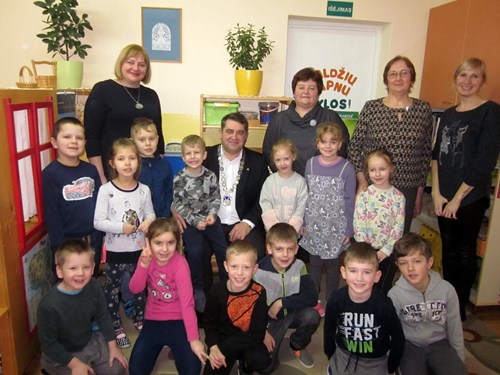 Picture: The children and the mayor of the town Kupiškis. (photo: Jurgita Naikauskiene)
First of all, our working team made a plan to invite a mayor of the town to visit children, were they told him about the project "Say Hello to the World" and sang a national anthem. Then, children prepared to take an interview about future of the town. I would like to mention drawing of a map of Kupiskis and learning the new city words in English. As a successful didactic activity we want to mention a song "London bridge is falling down", where children played, sang the song along and learned the new English words. We think the best methodical activities were making a plan, drawing and coloring pictures, discussion about presentation of a topic and research of the books. A big sheet of paper, pencils, glue and scissors were used to make a city plan. As a teaching activity the most important for children was looking for some information in the books and learning a legend about our mound.
We found out that it was a real challenge for our team and children to implement all the goals of the project. For our staff members it was easy to work as a team (to plan and realize all the activities). To involve children was great experience, too. The most difficult thing was to teach an anthem of the project because we found that a tune and words had not fit each other. Our music teacher adapted the tune for the words. Children liked singing an anthem very much.
In our opinion, we managed to realize the objectives of the project using preschool education methods, out teacher's ideas and children's attempts to do their best. To sum up, children gained an experience of participating in an international project and direct communication with children from foreign country. They liked video calls and preparation for them. Children were very friendly, creative, mentally active and emotionally engaged when they worked together and wanted to achieve the goal. Children become more tolerant towards other people. We want to say "Thank you!" for our mentors and the team from our participating kindergarten from Croatia.



Kupiskis nursery school " Obelele", Lithuania
Laima Baltusiene, Laura Adomele, Danguole Kozeniauskiene

Literature:
Alekniene, A. Kupiškis, 1999.

Cebatariute, D. Lietuvos žmonės, 2008.

Danauskas , J. Kukulas, V. Kupiškis. Fotonovelės, 2009.

Fedirka, K. Fotoskrydis, 2012.

Kupiškis centre of business information . Pažink Kupiškį, 2017.

Minkevicienė, E. Didžgalvienė, A. Kelionė po Lietuvą, 2018.

Svetickienė, G. Prie Lėvens, 2007.